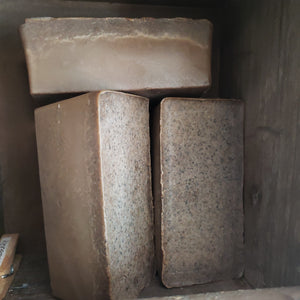 The Doxa Gene
Coffee Strawberry DoxaSoft
Regular price
$10.00
$0.00
Unit price
per
Step 01
ALL NATURAL SOAP for HAIR, FACE & BODY
What is it?
 A handmade 100% natural food soap with powerful caffeine rich, astringent, anti-inflammatory, and anti-oxidant properties 
Benefits of the Ingredients
Whole Strawberries and Coffee go to robust work helping to remedy skin and hair conditions such as dandruff, acne, irritations, rashes, dandruff, psoriasis. Vitamin C, alpha-hydroxylic acid rich aids in eliminating dead skin, delay aging, UV ray protection. Coffee with phenols to protect against damage, minimizing fine lines, wrinkles, hyper-pigmentation and crepey skin.
 Ingredients: water, white soap base, herbs, vegetables, strawberries, coffee, hempseed, fragrance 
Which skin type is it good for?
✔ Oily
Blends will vary as color and look take on nature's clothes, but consistently DOXA.
What else you need to know:
Filled with plenty DOXA BALANCING TONIQUE CONCENTRATE, this gentle melt and pour soap delivers all the punch for your becoming shampoo-free, conditioner-free and oil-free.
Seal skin, hair and body with Doxa Hydrating Gelly! Style as desired.
Note: Use Doxa Balancing Tonique with Soap for Direct Scalp Attention
---
Share this Product
---